Ottawa Real Estate Update: September 2019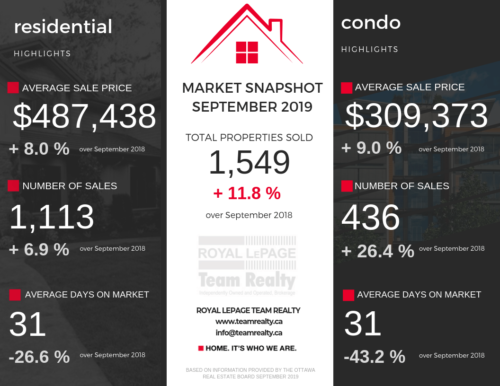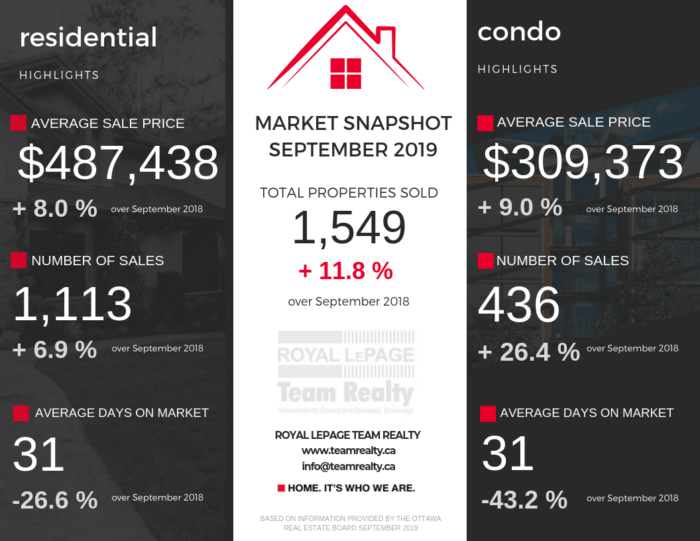 Ottawa Real Estate update September 2019
The fall real estate market in Ottawa is in full swing with strong numbers showing no signs of a slow-down in spite of the upcoming election. Condo prices have recovered (and are moving upward) in the Ottawa Real estate market and sellers are jumping back in to take advantage. Condo sales are up a whopping 26.4% over this time last year.  With days on the market continuing to drop in both the residential and condo market, it's a time when buyers should be ready to act quickly and sellers can take advantage of historically low inventory. Thinking of jumping into the market? Message us anytime!
Highlights from the Ottawa Real Estate Board:
Total properties sold: 1,549 an increase of 11.8 % over September 2018
1,113 in the residential-property class, up 6.9 % from a year ago
436 in the condominium-property category, an increase of 26.4 % from a year ago
The five-year average for September unit sales is 1,385
"Despite a challenging year of historically low inventory, September's sales continue to be extremely strong, the likes of which we haven't seen in the past 15 years," -President of the Ottawa Real Estate Board. "It's quite amazing, with the limited supply, that the market is still moving well with purchasers finding properties that meet their requirements," he adds.
Average Prices in the Ottawa Real Estate market
Average sale price for a condominium-class property was $309,373 an increase of 9 % from last year
The average sale price of a residential-class property was $487,438, an increase of 8 % from a year ago.
Year to date figures show an 8.4 % and 8.1 % increase in average sale prices for residential and condominiums respectively. *
Active Price Points in the Ottawa Real Estate market
The $350,000 to $499,999 price range was the most prevalent price point in the residential market, accounting for 43.5 % of September's transactions
The $500,000 to $749,999 range accounted for 28 % of residential sales.
The most active price point in the condominium was $225,000-$349,999, accounting for 56 %of the units sold.
* Average sale price can be useful in establishing trends over time but should not be used as an indicator that specific properties have increased or decreased in value. The calculation of the average sale price is based on the total dollar volume of all properties sold. Price and conditions will vary from neighbourhood to neighbourhood.  Looking for specific information on a property or neighbourhood?  Email is for a personal market report, info@teamrealty.ca